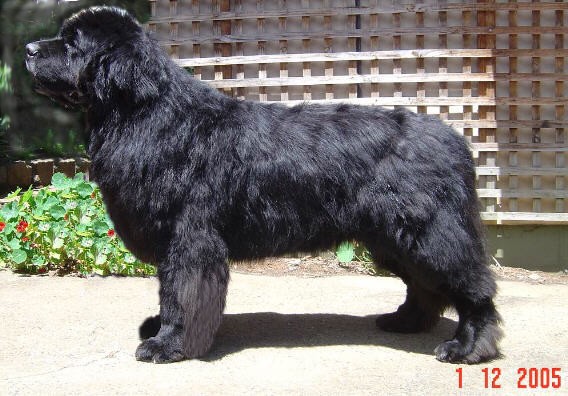 "Cowan"
D.O.B 16th July 1998 - 8th November 2007

Sadly, we lost Cowan at just 9 and a half years of age.
We will miss him dearly, the house just doesn't seem the same without you Co-ey boy.
Hips 6:7, Elbows 1:1, Cystinuria Clear, Heart Cardi Clear
Frozen Semen Available

Cowan is an outstanding Newfoundland, he is massive, weighing in at over 70 Kilos, he has huge bone, a superb head, excellent angulation and topline, and very powerful free movement.
Cowan has the most superb temperament, he adores everyone and everything, and gets along with other animals, male or female.
Cowan loves to swim, and he can also pull his cart when asked to, although not his favorite activity.

Cowan has sired a few litters of puppies, and is recessive for Landseer and Brown.
Cowan is Hip and Elbow Scored, Heart checked by a Cardiologist and Cystinuria Clear.
Two Cowan kids are BEST EXHIBIT IN SHOW winners!
You can see the gallery of Cowan kids by clicking on the "Offspring" button on the contents page.
Baby Cowan at 4 weeks old ---> and at 6 weeks old

Cowan headstudy at 2 Years old
Cowan's Show Results
All Breeds Shows -
RUNNER UP TO BEST EXHIBIT IN SHOW at 8 Months old
Best Exhibit in Group
2 x Best Baby Puppy in Group
4 x Best Minor Puppy in Group
2 x BEST MINOR PUPPY IN SHOW
1 Best Puppy in Group
1 x BEST PUPPY IN SHOW
3 x Best Junior in Group
Winner of Junior Dog Class - Royal Melbourne Show 1999

Specialty Shows -
Best Opposite Sex Puppy in Show - 1999 Newf Club of Vic Champ Show
- Judged by Arne Berg (Canada)
Best Junior in Show, Reserve Best Dog - 1999 Newf Club of Vic Open Show
- Judged by D Johnson (Victoria)

Club Competitions -
Winner - Up & Coming Dog - Newf Club of Vic Point Score competition (1998/99)
for Top Male Show dog aged between 3 and 18 months old.

Cowan Kids in the Showring -

Paddlepaws Party Party - Multi Class in Group, BOB and Challenges
Paddlepaws Sugar N Spice - Baby in Group
Krystalcove In Deed - BEST EXHIBIT IN SHOW NCV Open Show 05, Baby in Show NCV Open Show 04
Ferndarra Ravens Child - Baby in Group
Aust CH Seadale Amark Of Luv - BEST EXHIBIT IN SHOW at 7 Months (All Breeds),
Best Exhibit in Group (Champ) Multi Class in Group & Show,
Best of Breed Melbourne Royal 2009, Runner Up 2010
Seadale Luvs A Dream - Multi Class in Group
Seadale Mystical Man - Multi Baby in Group, Opposite Baby in Show NCV Champ & Open 07
Seadale Mystical Reef - Multi Baby in group/Show
Nailcote Mark My Words (AI) - Baby in Show and Multi Baby in Group wins

PARENTS

GRANDPARENTS

GREAT GRANDPARENTS

GREAT GREAT GRANDPARENTS

Aust CH Bearcove Watermark
(Landseer)


Aust CH Waterbear Incredible
(Black)

Tugs High Tide of Newton Ark
(Imp USA)

Am CH Amitys Pipedream of Pouch Cove

Am CH Moxie of Newton Ark

Aust CH Waterbear Juniper (Landseer)

Aust CH Planhaven Teddy Bear

Waterbear Amber Sun CDX

NZ CH Waterbear Beauty (Bronze)

Aust CH Waterbear Dan Ruff (Landseer)

Topmast Peter Pan of Ferntree (Imp Can)

Waterbear Amber Sun CDX

Waterbear Olivia

Aust CH Midnightbear Magic

Edentime Andromeda

Aust CH Bouvet Myra
(Black)


Aust CH Waterbear Jethro
(Black)

Aust/NZ & Am CH Spillways Caleb (Imp USA)

Am CH Johns Big Ben of Pouch Cove

Am CH Spillways Deep M Ocean

Planhaven Cascade
(Landseer)

Aust CH Planhaven Blak Power

Aust CH Planhaven Big Splash

Findale Elexa (Black)

Aust CH Bouvet Nando
(Black)

Aust CH Bouvet Aidan

Aust CH Findale Brenna

Bouvet Anthea

Topmast Peter Pan of Ferntree (Imp Can)

Vonmarenis De Sirable