Australian Champion
A Foreign Fling Unavoidable For Eternity
(Imp Germany)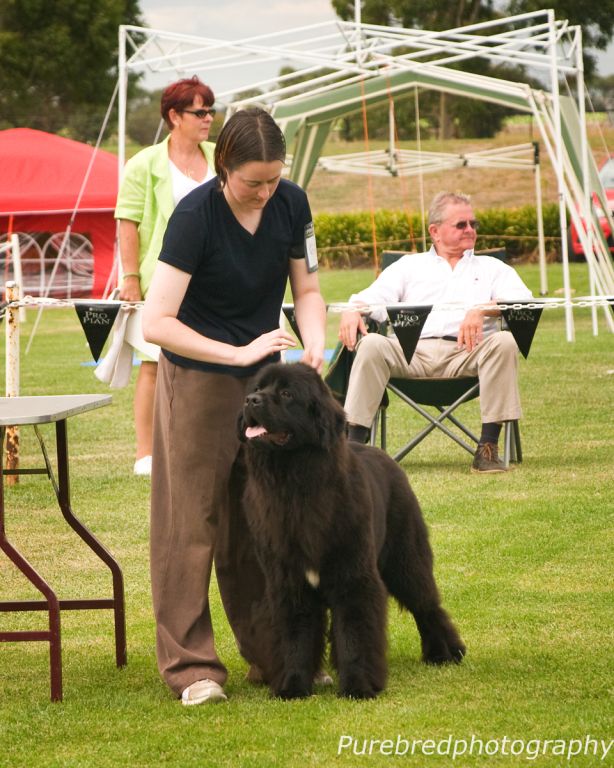 "Vala"
10 Months old - 1st Show
D.O.B 2nd May 2007

"Vala" at 9 months - Getting to know us
Vala is a superb young bitch bred in Germany, with French and Dutch parents.
She has a lovely pedigree, with very sound, healthy ancestors.
We are very grateful to Vala's breeders Claudette and Andreas for allowing Vala to make the journey to Australia, and to Els and Jan Jaap Zwaag from Kennel Eeyores, who helped select our puppy and then took her to Amsterdam to be raised and exported to us.


Valas parents can be seen below.

Vala's name was chosen from a list of German names, it means "the one chosen over all others" and
"Chosen from a big litter" Vala has 12 brothers and sisters, so she certainly came from a big litter!

Vala is owned in partnership with Wendy Horley (Newfangled Newfs)
| | |
| --- | --- |
| | |
Left is "Vangelis", a very striking Landseer boy with a lovely head, great bone and body, excellent angulation and fantastic temperament.
Right is "Lilo" a superb bitch with beautiful head and bone, great angulation and brilliant temperament.
Both have lovely movement with free flowing gait and excellent reach and drive.

Vala's Show Results -
1st Show 23rd March 2008
Judge Mr K Kashiwagi (Japan)
Bitch Challenge
Best Puppy in Group
BEST PUPPY IN SHOW!!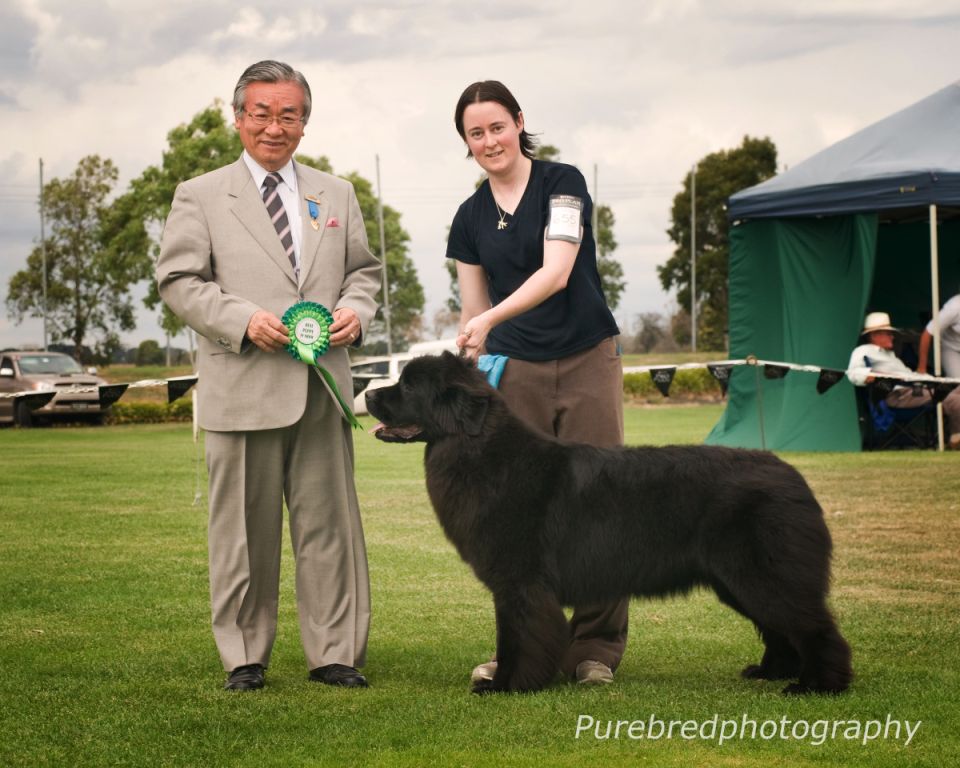 Show record -

Puppy Class - 5 Shows
5 Best Puppy of Breed
4 Challenges
1 Reserve Challenge
1 Best of Breed
1 Runner Up to Best of Breed
2 Best Puppy in Group
1 Best Puppy in Show

Junior Class - 2 shows to date
2 Best Junior of Breed
2 Challenges
2 Runner Up to Best of Breed
1 Best Junior in Group

__________________________________________
Vala was taken to Kassel Show in germany where she was assessed by two Judges, Mrs Ilona Kroos and Mr Peter Ludes
Vala's Critique -
7 month old good sized bitch, strong muzzle, scissors bite, dark good sized eyes.
Very good ribcage and good depth of chest for that age, very good angulations.
Movement without complaint, very well groomed, long and straight black hair, little white mark at the chest.
Soft and friendly temperament.

Vala was not exhibited at Kassel show, she was taken along for assessment only.


PARENTS

GRAND PARENTS

GREAT GRANDPARENTS

**INTERNATIONAL CHAMPION**
BISS German CH
Luxemburg CH
German Club CH
High Secret
Unavoidable
[Landseer]
HD - B
ED - 0:0
Heart Doppler - Clear
Cystinuria - Clear

Pharaon de la Contree du Milieu
[Black/White]
HD - A

Am/French CH Nec Plus Ultra du Mausolee des Glaces
[Black] HD - A

Am/French CH Milk Shake of Jorca de la Contree du Milieu [Landseer] HD - A

Color Me Cute Panda vom Riesrand
[Landseer]
HD - A

International/Can/German/Brazil CH WW-04 Tiptops Westin Union (Imp USA)[Black] HD - A1

Can/Vdh CH Quadriga Panda vom Riesrand [Black]
HD - A2

Eeyores Deep Emocean
[Black]
HD - A
ED - 0:0
Heart - Doppler Clear
Cystinuria - Clear


International/Spanish CH Tutti Quanti de la Terre aux Loups [Landseer]
HD - A

International CH Pong de la Terre aux Loups [Black]
HD - A

Oli de la Terre aux Loups [Black]


Jehaj Olivia
[Black]
HD - B

Bjornelyst Kolbjorn [Black]
HD - A2

Dnk CH Ulligardens Ninette [Black]
HD - B1